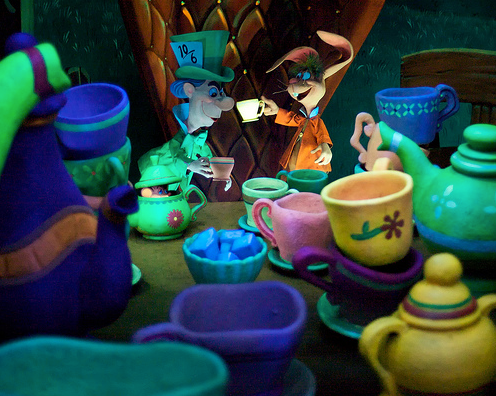 Photo cred: Matt Pasant
Alice in Wonderland at Disneyland in California closed last Friday, July 17th due to safety concerns. Al Lutz from MiceAge has the scoop:
"The rumors are true, and Alice in Wonderland has been shut down by Cal/OSHA. They finally called the park's bluff of working with Imagineering for years now to retrofit a hand railing system on the outdoor vine portion of the track. None of the previous design proposals were liked by either the Imagineers or Disneyland's operations groups, in a joint attempt to try and maintain the aesthetics of his unique indoor/outdoor dark ride and Disneyland exclusive from 1958. But Cal/OSHA has no use for aesthetics or history, and they finally got tired of waiting for the park to do something about this blatant code violation. The ride has been shut down indefinitely while TDA scrambles to approve a plan to retrofit handrails on to the exterior ride track, and this unplanned closure will likely be measured in months."
Some people are saying that Cal/OSHA did not shut down the ride, and that Disneyland did it voluntarily, although this is not confirmed. It is unknown when Alice in Wonderland will reopen.