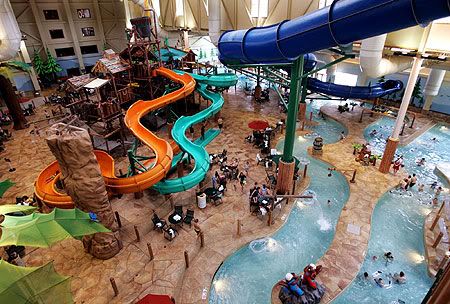 Earlier this week, Great Wolf Resorts, currently operator of 12 indoor water parks throughout the country announced that they will be opening another one right near Disneyland. It's called Great Wolf Lodge.
The new water park to open in Garden Grove, CA will be an indoor water park, and resort with 600 suites. The park is reserved only for hotel guests. Though new water parks typically aren't built in touristy areas due to high land costs, Great Wolf Resort's thinks this is exactly why it will do well. It's already in a tourist area. I'm curious as to why on Earthy they would build an indoor water park in California, which is one of the best places for an outdoor water park. However, I guess they want to stick to what they do best, which is indoor water parks. Some, but not all Great Wolf Lodges are already in Virginia, Texas, Ohio, Pennsylvania, Wisconsin, and even Canada. Construction is expected to begin in 2012.
What do you think about an indoor water park in California? Let us know in the comments.