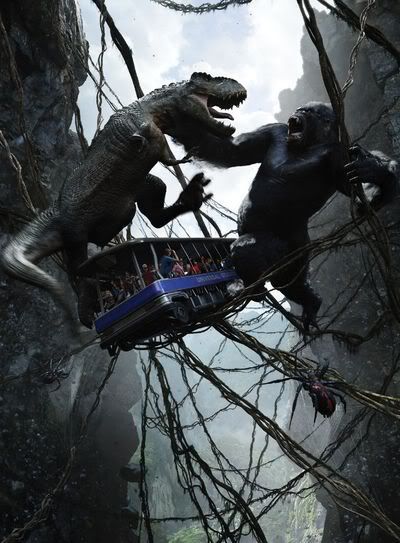 Photo cred: LA Times
King Kong: 360 3-D (KK360) opened this month at Universal Studios Hollywood. It's a 3D attraction which is a part of the studio tour that lasts about 2 minutes, 30 seconds and uses animatronics along with a couple giant 3D screens. Water and winds are also incorporated into the attraction. Let's see what people thought about it.
On June 1st, 2008, a fire brokeout in the backlot, burning several elements of the backlot including the King Kong encounter. Originally, Universal planned to just rebuild the attraction, however, they decided to take a different route, and brought Peter Jackson to design a new King Kong encounter. This is what he came up with.
Click read more to read the rest of this article.
KK360 takes guests on to Skull Island, the island from the movie King Kong. Spoilers ahead: You drive up into a dark soundstage where you are asked to put on your 3D glasses. Then, the show begins. The tram shakes, and you are tossed into a forest with a bunch of raptors and a giant T-Rex. King Kong comes and gets into a big fight with the T-Rex.. Basically you're just in the middle of a giant battle. Then the ride is over. End spoilers.
I'm hearing mixed reactions about the attraction. Overall most people liked it, however they thought it was too short. It may be two and a half minutes, but it sure did not feel like it. Also, some people complained that they did not have a good enough view of the screens in certain areas of the tram. If you're not a fan of 3D, this attraction is definitely not for you.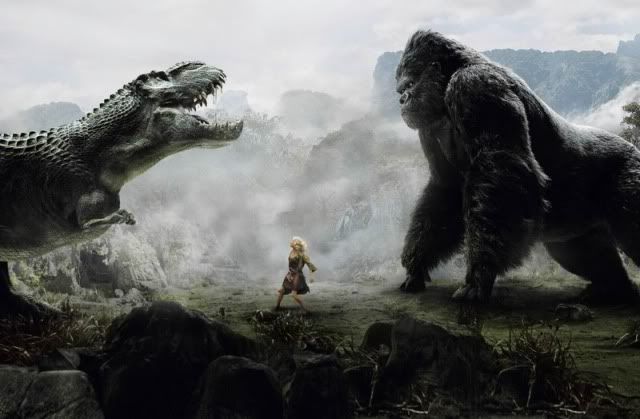 You're the girl.
As someone who has taken a ride on the Studio Tram before the fire, I used to like the King Kong encounter; like. It was a nice touch, but certainly not amazing. I have not ridden this myself, but from what I can tell, if you're there, you should check it out, but it's certainly not worth going to Universal Studios just to see it. I still need to see The Simpsons Ride myself.
Do you think theme parks should incorporate 3D into new attractions or is it just a stupid gimmick? Let us know in the comments.
If you can't make it to Universal Studios, ride it for yourself on YouTube; no 3D, of course.