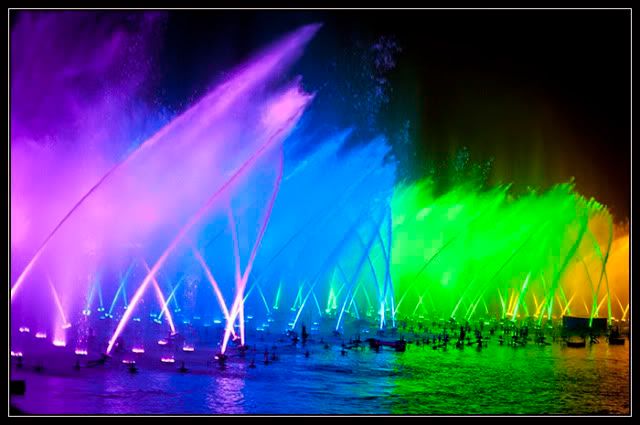 Photo cred: MiceChat
Yesterday, California was hit by a 5.4 earthquake that was felt all through SoCal. The quake hit 28 miles south of Palm Springs. This forced Disneyland to close all of its attractions until they could all be inspected; a routine procedure for Disneyland after earthquakes. The whole process usually takes about an hour. No damage was reported, until…
Now move to California Adventure. Divers were sent into the lagoon to inspect the platform in which the fountains sit on for World of Color (WoC). After hours of inspection, there was indeed damage to the platform. How could a quake of only this magnitude so far away cause damage? According to Disney, it didn't. Disney claims that there had already been an ongoing problem with the platform and that the earthquake caused no damage. I find it highly unlikely that this damage became a problem on the same day as the earthquake without the earthquake having anything to do with it. All three shows for the night were canceled.
Click read more to read the rest of this article.
Al Lutz of MiceAge had this to say, "The full cancellation of World of Color performances Wednesday night can't be blamed on the afternoon earthquake for certain. Multiple buoys that help raise the show platform up to the waterline sprung leaks and filled with water at some point before the platform was raised Wednesday evening. The middle and left platforms weren't aligned properly when the underwater scissor lifts were commanded to lock the platforms in place, with the middle platform suffering the most damage as the two massive structures were wedged into each other at an angle causing stressed structural beams and damaged fountains. A full team of divers, engineers, and outside contractors have been brought in to assess just how bad damage us before the repairs can begin, or even what the repairs need to be, and there's no word yet how long all that may take."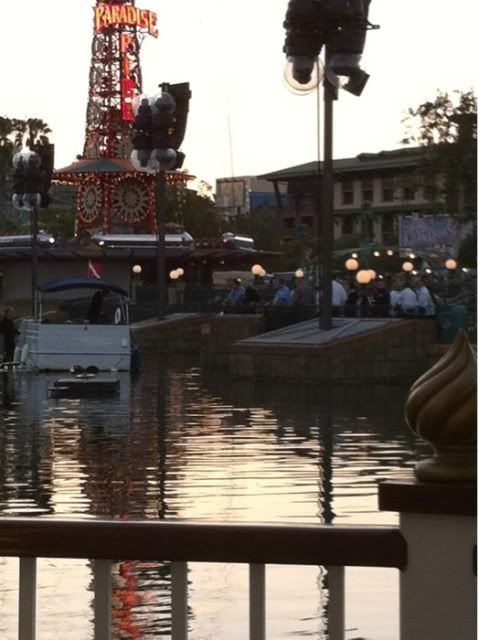 Inspecting WoC. Photo cred: @boy33
This turned into a total disaster with guest relations. First, they let people into the viewing area and had them wait there for about an hour. This got many guests angry, as they wondered why Disney did not know about this before they made guests wait about an hour. Disney immediately dispatched a large amount of guest relations CMs. The line to talk to them was out the door. Another problem was that for people who bought the dining packages were told that they could not get a refund. The whole point of buying the dining package is tat you get to see World of Color without all of the hassle to see World of Color. Reports say that many guests were offered tickets to Disney California Adventure to come back within six months to see the show again.
Considering the show opened June 11th, and this is only their second or third cancellation, that's a pretty good track record, especially for a new show. Things like this do happen, but you still have to feel for the guests who came just to see WoC, especially the out of towners.
Reports now are they are handing out fastpasses for WoC shows for tonight. We'll just have to see if they go on with the show.
What do you think about all of this? Let us know in the comments.